AMG Marks 50 Years with New Innovation, Growth, Optimism for Future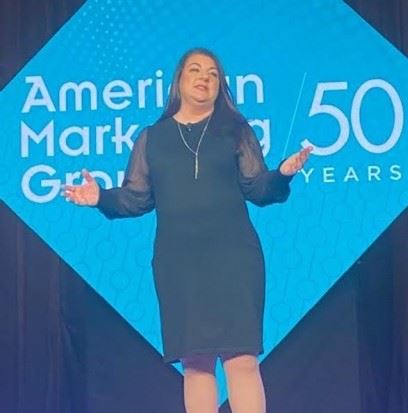 With an audience of more than 800 affiliates and preferred partners at Travel Market 2022, its 50th anniversary celebration at Resorts World Las Vegas Hilton, the American Marketing Group (AMG) lived up to the conference's theme of Stronger, Bolder, Brighter by announcing a number of innovations for members of its TravelSavers, NEST and The Affluent Traveler Collection (ATC) brands.
Among them are the introduction of a new payment platform for affiliates; a new, digital lead generation tool; nine additional preferred supplier agreements; and enhancements to the Affluent Traveler Collection. AMG leadership also described the rapid growth of NEST Plus—the brand's hosted component—and toasted the first graduating class of KORE, the group's comprehensive agency training program. In addition, six new staff appointments highlighted AMG's continuing focus on independent travel advisors as well as the Canadian market.
Optimism for Future: The overall tone of the event reflected AMG's optimism about the post-pandemic future of the organization and of the industry, despite world events, economic uncertainty, and a pandemic that delayed this event by two years. Sister Nicole Mazza, chief marketing officer, and Kathryn Mazza-Burney, chief sales officer, announced overall leisure revenue was 85 percent of pre-pandemic levels and anticipated to be fully back to 2019 levels by the first quarter of 2023. Affluent Traveler advisors' rebound is even greater, currently at 93 percent  of 2019 levels, and anticipated to be at 110 percent in 2023.
The Mazza sisters pointed to the addition of new agency members generating $480 million in preferred supplier sales to date in 2022, with many others under consideration. They also cheered year-over-year growth for many segments of their business, including insurance (63 percent), hotel revenue (40 percent), room nights (24 percent), cruise sales (29 percent)), land (24 percent)and cruise group sales (15 percent). Land travel saw the largest increase, with Europe and domestic destinations trending the highest with more than 50 percent growth.
Reminding attendees of the importance of advocacy in the travel industry, Nicole Mazza announced that AMG will match ASTA's current discount of $50 for individuals to join, giving potential members a total of $100. AMG will provide incentives for ACTA membership as well.
Crypto Currency Platform: Recognizing affluent millennials as potential upscale travel consumers with a desire for alternatives to traditional currency, AMG announced a new payment platform featuring crypto currency acceptance and processing. The program, currently being tested, makes AMG as one of the first in the industry to offer this option to its member travel advisors, which is important, said Mazza, because "75 percent of crypto currency users looking to travel want to spend their money through travel advisors." Once launched in 2023, initially with a few select cruise and tour operators, and later to include most of AMG's premier preferred partners, the crysto currency platform will be accessible through AMG's proprietary tripXpress booking platform.
OnlineXpress Overcomes Cookies: Starting in 2023, online marketers will no longer be able to track their customers digital movements via the use of third-party cookies. To compensate, AMG has launched a new digital segmentation product to allow suppliers and advisors to better target clients for marketing and potential sales. Available now through OnlineXpress, AMG's customized lead generation and consumer travel website platform, the software places a unique code on each OnlineXpress website. This code will help recognize each visitor, their preferences, history, and more.
Only OnlineXpress as the "first party" has access to this useful data, versus third party cookies that are generated by external sites. With this technology, which is a first in the retail travel industry, AMG preferred partners can better target advisors' clients who indicate interest in their products. This is not only useful in measuring the effectiveness of marketing campaigns but also provides the prospect of potential clients. All future campaigns would link back to the original agency for fulfillment.
"Since customers must opt-in and agree to accept cookies, this technology ensures that our agencies have permission-based marketing," said Nicole Mazza. We want to deliver the best ROI for marketing and in turn, deliver quality leads to our advisors."
New Preferred Suppliers:  At the conference, AMG announced nine new preferred suppliers, including cruise suppliers Explora Journeys and Quark Expeditions; tour operators Exoticca and Adventure World Travel; airlines Emirates, ITA Airways and La Compagnie; MHS Worldwide, which provides global luxury transportation; and Venture Ashore, which provides shore excursions around the world. In addition, AMG has partnered with several tourist boards and CVBs to expand its reach and promote their destinations, including those representing the Cayman Islands, Bermuda, Hawaii, Las Vegas, Miami, New Zealand, Puerto Rico and Saudi Arabia.
Affluent Traveler Enhancements: The Affluent Traveler Collection, AMG's luxury, invitation-only marketing group, reported its popular trending destinations this year are Greece, Italy, France, Portugal and Africa showing almost double-digit growth. ATC's 2022 new brand campaign, "Luxury is the Standard," was designed to engage consumers through e-marketing, direct mail, and social media. The result was up to a 29 percent click-through rate with up to a 40 percent open rate, higher than industry averages.
In 2023, ATC will introduce an interactive ATC Amenity Guide, displaying a wide variety of product information and supplier amenities. This publication, along with the semi-annual Affluent Traveler Magazine, will include more interactive capabilities such as animation of photos, embedded videos, telephone or video hotspots, and links to suppliers. In addition, ATC will offer new training programs geared toward agency owners and managers, as well as peer-to-peer training so agency owners can share best practices.
Growth of NEST Plus: Eighteen years ago AMG introduced the Network of Entrepreneurs Selling Travel (NEST), the first consortium to exclusively serve home-based agencies. Due to entry requirements, including revenues of at least $500,000, NEST found itself turning away a large number of interested advisors. Bu  the spring 2021, in the midst of the pandemic, an increasing number of individuals found themselves becoming interested in becoming travel advisors.
AMG studied both of these trends and created NEST Plus to offer these remote independent consultants a host agency option in addition to technology, back-office support, booking tools, marketing, preferred partnerships, and other resources of NEST. NEST Plus advisors also receive the support of business analysts, some with up to three decades of travel experience, dedicated to helping them grow their business to the point where they can join NEST, should they choose. At the conference, AMG announced that NEST Plus has grown to close to one hundred advisors, generating more than $22 million in preferred supplier sales.
KORE Brings in New Blood: "The travel industry is growing again and currently its growth is outpacing current staffing levels," said Steve Phillips, AMG's senior director of education and training, who added that current agencies don't have the bandwidth to train new hires, who are desperately needed in an industry that risks its advisors are aging out. "The average age of professionals is 42, but in travel, the average age of agents is 51," Philipps said. "If agents want to eventually retire and retain their legacy, they need an exit strategy. They need to train and cultivate new hires, to whom they can eventually sell their agency."
To remedy that problem, AMG launched KORE in November of 2021 in conjunction with The Travel Institute. This comprehensive training program is designed to educate new talent to the industry, fully train them, and set them on the path to becoming successful travel advisors. The 14-module course, encompassing up to 150 hours of study, and requiring a minimum score of 70 on the final, proctored, exam to graduate, is also seen as a way for older advisors to shore up their skills.
Graduating students earn credit toward their CTA designation. Conference attendees toasted the first nine KORE graduates at the conference's Gala Dinner, and AMG's leadership announced that a Canadian version will be rolled out in the summer of 2023, with training for preferred supplier staff to follow in the future. AMG plans to offer the training to its TravelSavers agencies and to market it to the public via social media and Internet advertising.
New Staffers: Finally, AMG announced new staff appointments that spotlight the organization's focus on the value of Canadian business and independent agents. In Canada, Jane Clementino joins as TravelSavers Canada senior vice president and general manager, Marylene Lupien as director-business development, and Monique Lalonde as director of strategic partnerships in Canada. In the U.S. new hires include Kelly Koehler, business analyst for NEST; Maureen Bourcy business analyst for NEST Plus; and Mary Kaye Zenatta as supplier relations director.
Founded by CEO Rick Mazza in 1970, the American Marketing Group, Inc. is the parent company of 19 travel brands serving more than 25,000 advisors generating $20 billion in revenue and featuring over 100 preferred suppliers in addition to thousands of preferred hotel properties. For more information, visit www.travelsavers, www.theaffluenttraveler.com and www.jointhenest.com.
The TRAVELSAVERS Advantage
TRAVELSAVERS Products and Services